Le collezioni Lordflex
[list-product-home typology_id="536" pid="3647"]
composizione
Clicca nei puntini per visualizzare i dettagli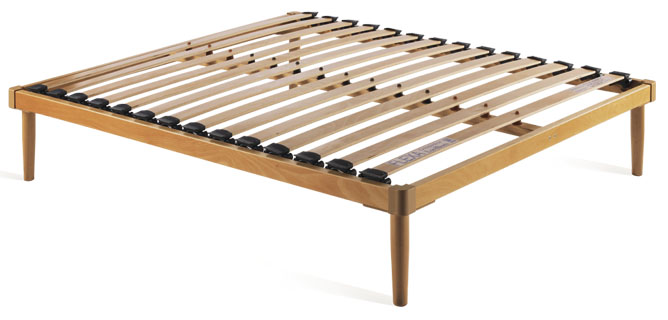 Shock-absorbent self-modelling smallsize lath holders made of rubber with floating effect.

Curved laths made of steamed beechwood multilayers, section size 68x10 mm for double bed and 68x8mm for single bed. Single-arch laths for double-bed bases.

Outer frame made of multilayer, lamellar unidirectional beechwood; section size 60x30 mm. Water-based wood finish: no-toxic, eco-friendly, without formaldehyde.

Corner pieces (exclusive LORDFLEX'S model) used to square and reinforce.

4 conical beechwood feet.

Central bar with supporting system ERGOTEC 1, which has 3 zones of different bearing capacities and rubber ball shock-absorbers under each lath, starting from size 100 cm in width.
In sintesi
ERGOTEC 1 supporting system with
rubber ball shock absorbers
Whole lath also on double bed
3 differentiated zones starting from length 100 cm
Uniform flexibility surface
Ergonomic
Physiologically correct sleeping position
Self-modelling lath holders made of rubber
Entirely made of eco-friendly natural beech
Breathable
Insulates from electromagnetic pollution
Suitable for all types of mattresses
A richiesta
Twin laths with rings for adjustment of stiffness and bearing capacity
Assembly kit version with no price change
Base structure feet h. 50 cm
---
The 3-zone system ERGOTEC 1 (Lordflex's exclusive patent) has differentiated bearing capacities and rubber ball shock-absorbers under each lath. It emphasises the mattress's functional performance and qualities, extending its life cycle. The rubber lath holders with floating effect together with the ball shock-absorbers ensure the perfect adaptation of the contact surface to your body profile and allow the best position, thus relaxing muscles, stimulating blood circulation and relieving numbness. Flexa caucciù is the ideal support for high-quality sleep and relaxation, and it improves the well-being not only of your body, but also of your mind.
Certificazioni di qualita