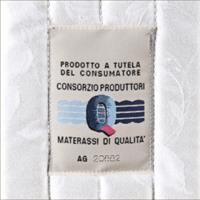 consumer protection
The Consorzio Produttori Materassi di Qualità (Association of Producers of Quality Mattresses) is an Italian non-profit association that includes some of the best Italian manufacturers of mattresses.
It was established in order to protect consumers by helping them select the most suitable guaranteed products and in order to spread correct information on the culture of sleep.
The Association's activities can be summarised by the internationally-registered "Quality Marking", which testifies to quality from all perspectives::
compliance with Italian and international standards;
use of healthy, safe and suitable materials from the quality point of view;
manufacturing technologies;
strict conformity checks;
research based on in-depth studies on sleep physiology, human anatomy and mate rials engineering.
The Quality Marking is reproduced on a label woven, numbered and sewn into the mattress. Always check for its presence as the first step in purchasing a new mattress. The Marking is granted only to those mattresses that have passed a series of quality and durability tests (at external independent laboratories CATAS or COSMOB) in compliance with the international standard in force.
Any mattress bearing the Association's Quality Marking ensures the following:
all duration and resistance tests, which simulate the most critical conditions of use in the test lab, were carried out and passed;
adequate characteristics are ensured for the entire life cycle of the mattress;
the mattress was manufactured by a company embracing principles of quality for the
protection of consumers before and after the purchase.