The TABLE OF BEARING CAPACITIES is a useful tool to select the ideal mattress for your biotype. By matching your weight to your height, you will get a figure (10-15-18 or 22) that represents the support coefficient your mattress should have.
You can find this coefficient in the different Product Technical Sheets.
Therefore, when purchasing a product, just choose among those with your own support coefficient according to the table of bearing capacities. The support coefficients were calculated based on scientific laboratory measurements of the bearing capacity.
It stands for the grams per square centimetre that the mattress can bear. The different use of the various structural materials gives the following bearing capacities: 10, 15, 18 or 22 grams per square centimetre.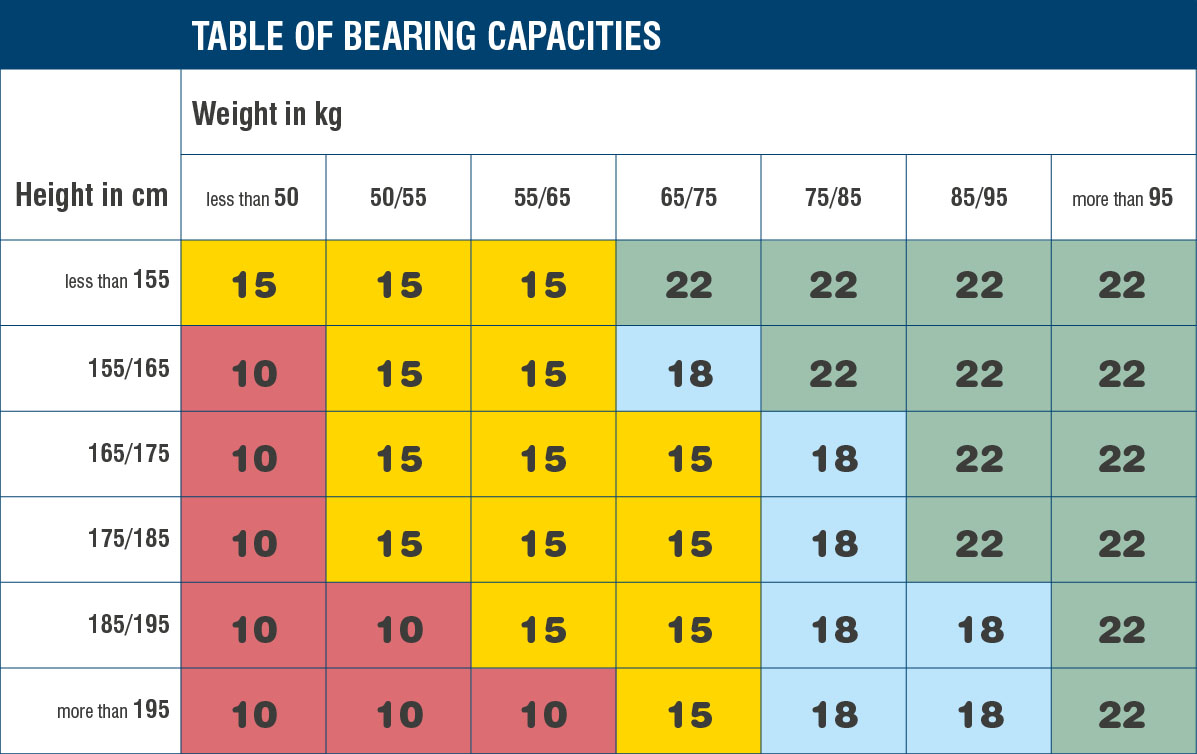 10
Nido Baby
Capriccio
Piuma
15
Bliss (MP spring system)
Lady soft
Oblio Mp
Nuvola
Aquagel
Clorofilla
Elisir
Bios
Noflame Mp
Noflame Soft
Noflame Piuma
18
Anniversario 50
Dormiglione
Bliss (independent spring system)
Vanity
Cover
Lady Memory
Lady Più
Soleo
Strabilio
Memory
Aquasan
Melody
Wellness
Fitness
Mariana's
Bios Crine
Noflame Più
Noflame Waterform
22
Bliss (AP spring system)
Brio
Oblio Ap
Smart
Noflame Brio
Noflame Ap