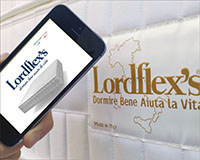 Innovation
Lordflex's has launched a brand new feature for the main products in its collection, i.e. product labels based on digital technology (already used, for example, on "contactless" credit cards).
The Lordflex's label allows customers to carry out pre-set operations from their smartphones such as downloading and displaying technical and informative contents on the products the customers are interested in at a point of sale (or at home after purchasing it).
Several modern telephones are equipped with the NFC functionality, a technology that allows the exchange of data and information by simply holding the device close to the label of the Lordflex's mattress. The connection with the mobile will take place within a distance of maximum 4cm.
Although based on digital technology, the label is a passive device that requires no power supply to work and consequently generates no electromagnetic fields. The Lordflex's NFC label will make it possible to identify the product, make sure it is genuine and avoid any counterfeits. It will also make it possible to download the 3D video and see the product's layers and construction, to read use and maintenance instructions, to download the Lordflex's app including informative contents, to connect to the corporate website, and much more.