The key to success
Lordflex'shop is much more than a shop. It is a Concept that goes beyond the traditional point-of-sale experience and puts forward instead a strong, accurate and detailed sales system involving everything that revolves around the Lordflex's brand. It is a specialised space dedicated to the sale of sleeping systems where you can test the comfort of use, the perception and the suitability of the bearing capacities to your needs. An area where you can identify with certainty the product that best absorbs your body's weight and ensures your posture is correct. The charming evocative layout is designed to provide a pleasant experience by strongly emphasising and conveying the values and perception of the products.
A sales environment bordering on the furniture show with a well-defined layout – which stands out from the remaining exhibition space – and a separate dedicated street shop front, preferably with a separate entrance and sign. A new sales Concept is suggested to those Retailers who have exhibition space in excess or to be partly retrofitted. It is not a franchising arrangement, but the innovative distinctive system of the shop in shop, which anyway preserves the typical benefits of a franchising network. An area inside a point of sale that emphasises margins and controls and cuts management costs by minimising fixed overhead costs.
This enables the Retailer to access a new diversified market opportunity without incurring further managements costs, because it requires neither additional staff nor expenses for insurance coverage, tax accountants, rent or other corporate expenses.
It makes it possible to optimise and systematise the existing structure and resources thanks to the additional sales proceeds generated by Lordflex'shop. Current corporate costs can consequently be reallocated by diversifying one's business and re-using them in an expanding market segment – given that public awareness of the importance of people's health and well-being has been increasing.
All this is supported by a high-profile Parent Company that has a sound brand – widespread in Italy as well as abroad – specialising in high-quality 100% Made-in-Italy products, which is able to lead and guide its Affiliates thanks to the competence and professionalism it has acquired over 50 years of experience in the industry.
Lordflex'shop ensures 4 major objectives:
to secure the sale of "first-installation" mattresses, which tend to be purchased not in furniture shops but more and more often through other sales channels, as they are more visible and add more value to the product;
to recover the mattress spare-parts market,, which furniture shops have all but lost;
to aim at a business that is managed in a simple way and provides assured margins;
low investment.

It is a new sales Concept which Lordflex's proposes to all the people who are interested in starting a new business.
Dynamic and streamlined, it is based on a low-cost logic according to the latest market criteria and designed to reduce both the initial investment in setting up the point of sale and monthly and management fixed overheads.
Our exclusive bearing-capacity simulator usually makes it possible to offer the best conditions to ensure such major objectives are reached.
The simulator is configured as a single test station taking up as little as 90x200cm of exhibition space. Its extraordinary functionality will allow you to experience the comfort resulting from all Lordflex's key products. So we don't need to put on display a lot of different mattresses, unlike shops with traditional test stations, which require much larger exhibition surfaces.
The simulator enables Lordflex's to put forward "Small Shop", i.e. an innovative unique concept store whose winning stand-out is its tiny exhibition size (20/25 m2), where a complete range of mattresses and sleeping systems is on display in a modern, functional and appealing furnished layout.
A small retail space means a low monthly rent. You will be able to choose at a low cost such prestigious locations as shopping malls, historical town centres and busy pedestrian precincts, which traditional mattress shops usually do not opt for because of the high management costs. These ambitious prestigious locations ensure high visibility and a lot of visits from prospective customers, consequently multiplying sales opportunities in comparison to suburban areas. The high visibility also makes it possible to reduce or even eliminate any advertising costs – usually needed to raise awareness of the point of sale.
Finally, a small space requires just one sales person, thus reducing staff costs as well. The sales person will undergo a high-level industry-specific technical and sales training course.
Minimising costs beneficially prevents any impact on the point of sale's balance sheet and does not jeopardise its sustainability – often the reason behind the shutting-down of retail shops.
Opening up a Small Shop also means approaching the sale of mattresses through the channel of specialised shops, which in Italy accounts for 28% of total sales in the industry.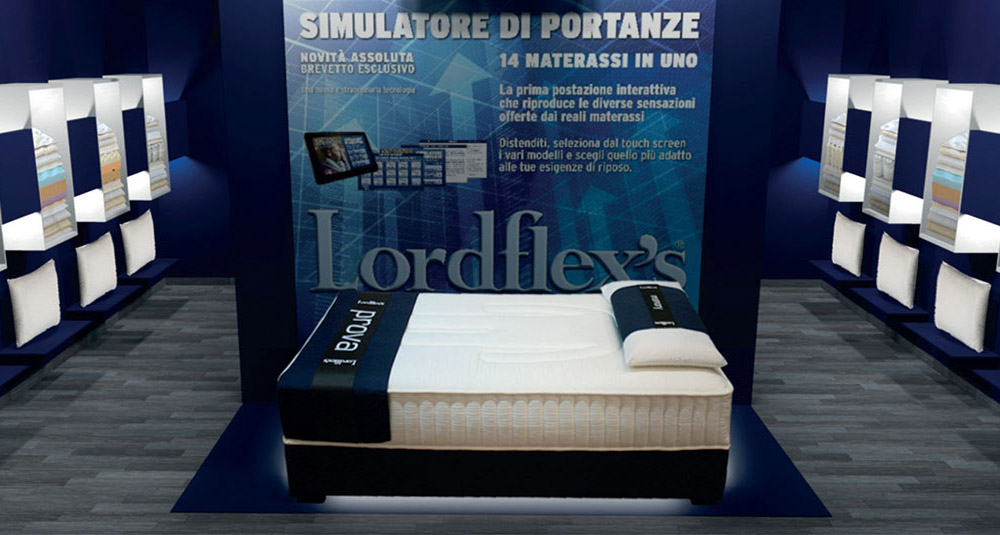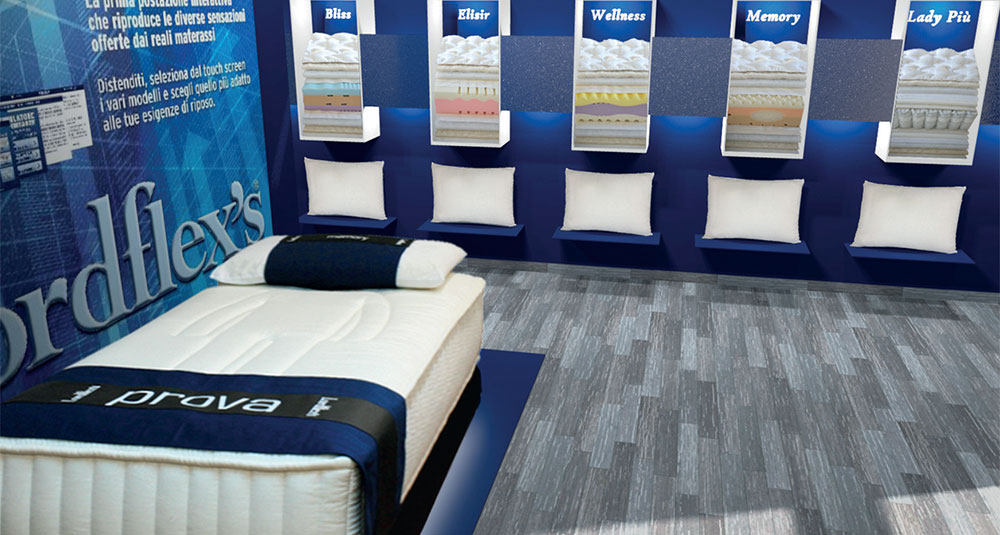 Each sleep has its own mattress
---
COMFORTEST measures your comfort and selects the most suitable mattress for you.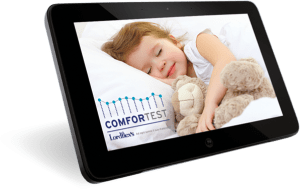 Lordflex's has developed and patented an exclusive device with a technology – unique in Italy and in the whole world – that will find the perfect solution for your sleep requirements.
Special internal sensors and a patented mechanism allow COMFORTEST, a new revolutionary technological mattress, to detect the posture and weight distribution of theperson lying on it. All collected data is related to the different mattress parameters from the Lordflex's
range as controlled through a dedicated tablet/ smartphone app, while a monitor scientifically displays in 2D or 3D mode the map of the
pressure points in order to assess the body's correct natural "waterline".
Then COMFORTEST suggests through a sophisticated algorithm the most suitable mattress for you from the physiological point of view and at the same time lets you test the sleep experience. COMFORTEST can simulate the exact bearing capacity of the recommended model as well as of the other Lordflex's mattresses, while you are comfortably lying on the test station. This will allow you to directly and immediately compare the different alternatives. The choice of a new mattress turns into an unusually pleasant and relaxing experience, and prevents any uncertainty and mistakes in the purchasing process.
The COMFORTEST technology is validated by the COSMOB Technological Centre, an authoritative and accredited test laboratory in the manufacturing industry..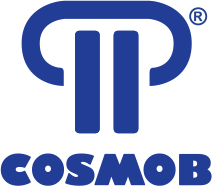 Looking for a new mattress, but they all look the same?
COMFORTEST is the start of a new era in choosing the mattress that best meets your individual sleep, health and well-being needs.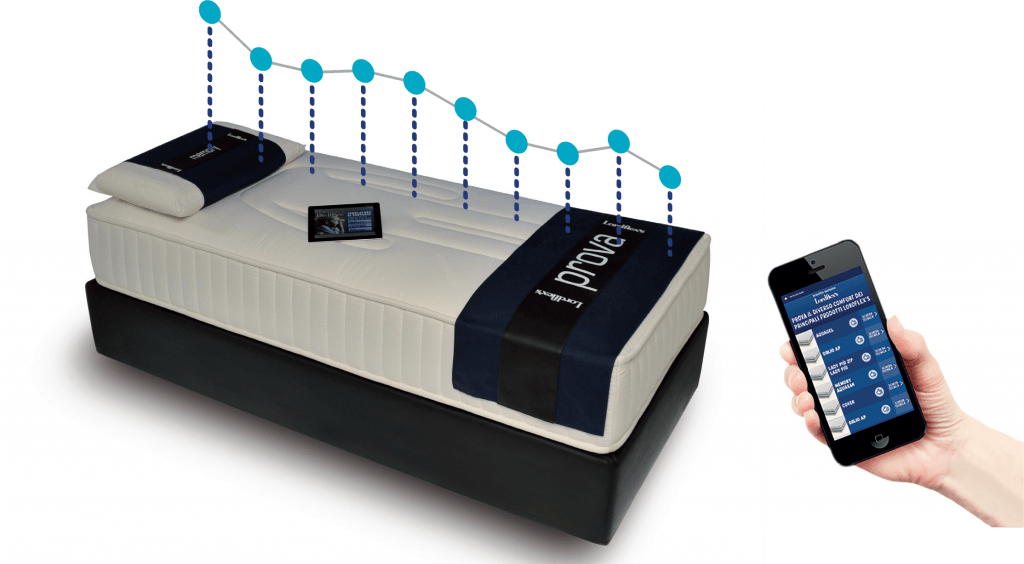 5 good reasons to test COMFORTEST before your next purchase:
EASY




Allows you to easily choose the best mattress;

UNFAILING




Avoids any doubts, uncertainty and wrong decisions;

FAST




Makes your purchase much easier through a fast comparison among 14 different mattress models;

TECHNOLOGICAL




Increases the awareness level related to your ideal state of comfort thanks to interactive, functional and efficient technology;

FUN




The "modern and multimedia" approach to the purchase experience is brand new.