Le collezioni Lordflex
[list-product-home typology_id="536" pid="3656"]
composizione
Clicca nei puntini per visualizzare i dettagli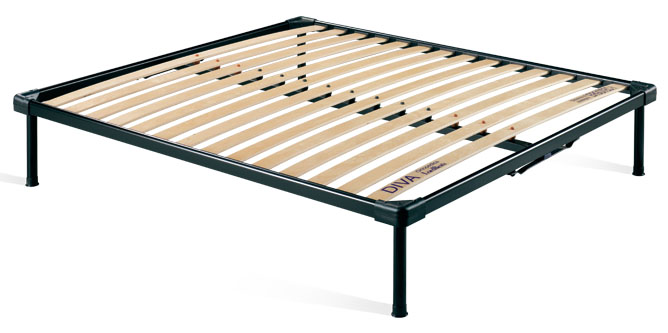 Curved laths made of steamed beechwood multilayers, section size 68x10 mm for double bed and 68x8mm for single bed. Single-arch laths for double-bed bases.

Antisquawking lath holders.

Central bar with supporting system ERGOTEC 2 (Lordflex's exclusive patent) , which has 3 zones of different bearing capacities and comprises rubber ball shock-absorbers under each lath and 2 leaf springs - starting from size 100 cm in width.

Steel semioval-tube outer frame, section size 50x25 mm, thickness 1.5 mm. Epoxy powder painting.

Nylon corner pieces (exclusive LORDFLEX'S model) used to square and reinforce for perfect stability.

4 round-tube feet diameter 40 mm.
In sintesi
ERGOTEC 2 supporting system with rubber balls and leaf springs
Whole lath also on double bed
Uniform flexibility surface
Physiologically correct sleeping position
3 differentiated zones starting from width 100 cm
Orthopaedic, high bearing capacity
Sturdy
Elastic
Breathable
Suitable for all types of mattresses
A richiesta
Twin laths with rings for adjustment of stiffness and bearing capacity
Assembly kit version with no price change
Base structure feet h. 50 cm
---
The Diva base uses the most innovative technological solutions, developed following fatigue tests and state-of-the-art research. As the latest evolution in supporting systems, ERGOTEC 2 can guarantee excellent performance in terms of quality of sleep and strength. The frame is composed of two systems of gradual cushioning according to the real weight carried. The first system: one ball under each lath to ensure the best adaptation of the lath surface to your body's profile. The second system: two leaf springs for the central bar, located at the two ends as additional supports. The leaf springs also protect against irregular shocks in a too small area of the bed by redistributing any pressure applied on the whole surface. The greatest property of the DIVA base, therefore, is its dynamic system, which interacts with the weight to be supported and automatically adjusts each time to the body curves for the best position according to individual sleeping needs.
Certificazioni di qualita